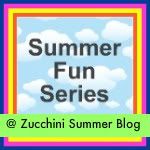 If you missed the first four weeks, you can catch up here:
Week 1
Week 2
Week 3
Week 4
Hope you all are having fun! Just a couple weeks left to go and then we're going to wrap up with a
g
i
v
e
a
w
a
y
!
Here are this week's activities:
Monday-- Happy 4th of July!
Family Fun
has this really cute fan craft. You just need some scrapbook paper and paint stir sticks! Make these and then go see fireworks!
Tuesday-- When Sponges Attack
Soak some sponges in water and go have as sponge fight with the kids. Outside, of course! Plan to do this in the middle of the day when it is hot!
Wednesday--Square Scavengers
Take the kids on a little walk around the house and outside to find as many
square
shaped obejects as possible. They can collect them, draw them in a journal, or take photographs.
Older kid variation
--Set a time limit on it. How many squares can they find in 60 seconds? 3 minutes?
Thursday--Printable Picnic Matching Game
The internet is full of fun printables. I found
this one at Family Fun
(can you tell I love them?!).
Friday--Teach Something
Teach your child something today. Maybe it's a funny song you sang at camp as a kid. Maybe you'll work on shoe-tying, how to fold towels, facts about your state, or how to spell their name.
Sharing the link fun here: