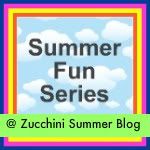 This is our final post in the Summer Fun series! Hope you've been enjoying the 8 weeks! Be sure to read to the bottom of this post because at the end will be giveaway info on how you can win THIS awesome Summer Fun kit!
If you missed any of the weeks, you can catch them here:
Week 1
Week 2
Week 3
Week 4
Week 5
Week 6
Week 7
Final Week's Activities
Monday- Jellyfish
DLTK has
this cute craft
that many ages will enjoy. After all, who doesn't like coloring on coffee filters?
Tuesday- Winnie the Pooh
The new movie looks so cute! Try making these equally cute paper bag puppets from Disney Family with your kids!
Photo and directions
available here
.
Wednesday- Finger Paint!
The name says it all here folks. Go paint!
Thursday-
UNO!
Grab your stack of uno cards and teach the kids how to play!
The game can be picked up easily and is fun for everyone.
Plus, it requires no prep work, no mess to clean up, and it's free!
Friday- Phineas and Ferb
Oh those two boys are at it again this summer! I found
a slew of fun t
hings at the Disney Family website
(Yep, same place I found the cute Pooh puppets!).
Let your child browse with you and decide on what to do.
Maybe you'll make the Agent P cupcakes.
Or the Phineas and Ferb lampshade.
GIVEAWAY INFORMATION
To finish this series with a
bang!
I'm giving away this
Boredom Buster Box
for your kiddos! I had some help from great sponsors though.
Crocheting4Baby
donated a great quiet time activity sheet set and dry erase marker to go with it.
KarnivalofKrafts
donated tons of pony beads and square alphabet beads for you to play with!
Plus I filled the box with stickers, coloring sets, a game, and more!
How to enter
Mandatory Entry:
Look back over the last 8 weeks and tell me what activity you enjoyed most with your kids, or what new activity you pinky promise to try soon. :)
Week 1
Week 2
Week 3
Week 4
Week 5
Week 6
Week 7
Bonus Entries:
(leave a comment with each one)
Follow this blog
Heart Karnival of Krafts on etsy
Heart Crocheting 4 Baby on etsy
Tell me when school starts back in session for your area
Put my button on your blog (leave a link please)
Tweet this giveaway (can be done once daily, leave link!)
A total of SEVEN, count them, SEVEN possible entries per person! Or more if you tweet daily!
A winner will be chosen on Friday, August 5th. US only please due to the shipping costs. Winner has 48 hours to claim the prize or another lucky duck will be chosen. Leave your email address in the comments if you are a no-reply blogger.
*